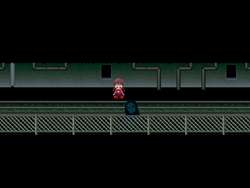 The Sewers are a deeper location accessible through the Mural World. It consists of a series of dark tunnels and dirty rooms, and is home to a variety of characters.
The music is a slowed down version of the music that plays in The Infinite Road.
Points of Interest
Edit
The Sewer Drawings
Edit
In certain rooms (Sewage Processing Plant 2, Sewer Tunnel 2 and Sewer Tunnel 3), there are black window-like holes in the walls. You can peer into them by pressing interact, which will show you a strange and disturbing drawing. Each of the 9 holes show a different image. The images are shown below:
Interpretation
Edit
It's possible that Madotsuki herself might have drawn these pictures prior to the events of the game, and may offer an insight into her psychology.
Connections
Edit