Stabbing Room
Talk

0
126pages on
this wiki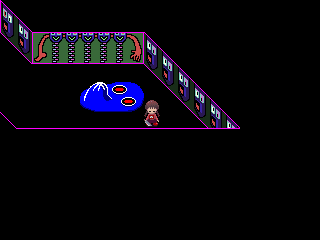 The Stabbing Room is found behind the door somewhere at the top of the Number World that is blocked by an NPC. Stabbing the NPC with the Knife effect, or moving it with the Cat effect allows Madotsuki to enter the room.
The room itself is filled with identical NPCs, so to move around the room, Madotsuki has to fight her way through them by stabbing them. Like most other NPCs, they do not retaliate. There is a blue landscape model in the lower part of the room, that makes faint noises when you step on it.
There are a total of 182 NPCs inside the room.