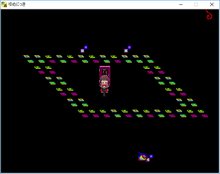 According to KIKIYAMA's official website, Yume Nikki was first published on June 26, 2004 under version .00 [1]. Ever since then, KIKIYAMA has made numerous updates, all the way up to version .10 on October 1, 2007 (even though it was completed on September 17, 2007). There isn't a whole lot known about the game's development to this day.
Yume Nikki wasn't exactly popular when it first came out, leading to no one really documenting the different versions. Eventually though, Yume Nikki became popular through Japanese forums such as 2channel [2]. The game even gained an English following after an unofficial English translation was released. By the time all of this happened the current version was released.
Nowadays, older versions are harder to come by because of the explosion of popularity happening much later in the game's lifetime. Despite the fandom's attempts to find these past versions, there is still much to be found. This page documents what we know so far.
Kikiyama HP
Edit
On KIKIYAMA's website, KIKIYAMA HP, there are a number of pages dedicated to Yume Nikki. One of which is entitled ゲーム紹介, and contains instructions for how to play the game, as well as controls.
The second page is a log for the bug fix history, and says the bugs in each version of the game, from version 0.04 to 0.10. It mainly talks about bugs while using Cat and Knife effects, as well as sound effect glitches. Interestingly, it says that version 0.10 has some maps that are missing graphics. The fourth page has screenshots of the game, and the fifth is a download link for it.
However, the third page documents past versions of Yume Nikki, all versions from 0.00 to 0.10. The game started with version 0.00, although there is no information known about this version. Not too long after, version 0.01 was completed on 7/6/2004. This version had partial changes to sound effects, more and adjusted maps, and partial layout change to the effect graphics.
On 7/14/2004, version 0.02 was completed. This new version featured the basic sounds being lowered by a half. There were also many adjustments to the maps and the effect layouts, and there were many bug fixes. This version was published on 7/20/2004. Version 0.03 had the footstep sound effect changed and more "dramatic" maps. It was completed on 2/9/2004 and published on 9/7/2004.
Version 0.05 had many important updates- one important one being the ability to use effects with the one button. Also, four new effects, NASU and a new map were added, the volume of the game was lowered overall, and the vending machine reactions were changed. It was completed on 11/23/2004 and published on 11/26/2004.
Version 0.07 had partial BGM changes and added the ability to wake up with most effects. This version was completed on 4/24/2005 and uploaded on 4/29/2005. The latest version, 0.10, added maps, adjusted maps and changed graphics. It was completed on 9/17/2007 and uploaded on 10/1/2007.
Please note that all this was translated with Google Translate and therefore may be wrong.
References
Edit
Ad blocker interference detected!
Wikia is a free-to-use site that makes money from advertising. We have a modified experience for viewers using ad blockers

Wikia is not accessible if you've made further modifications. Remove the custom ad blocker rule(s) and the page will load as expected.