Mars-san
Talk

1
127pages on
this wiki
Mars-san



The weeping, red-eyed Mars-san

Location
The Martian Underground
Role
None
Size
Huge
Killable
No
Notes:
Reacts unusually to being stabbed.
Mars-san (aka. Tasei-san or The Martian) is a non-NPC character found underground on Mars.
He is a tall, indigo creature with a single large eye and a single foot. He is found weeping near what appears to be a crashed locomotive.
Interaction
Edit
Mars-san produces a remorseful three-tone chime (high b flat - e flat - f) when Madotsuki interacts with him, coupled with a small darkening of the screen.
Additionally, he can be stabbed with the knife effect. This will not kill him, but leaves a wound on his foot and changes the color of his eye from red to green; a second stabbing will change his eye color back to red.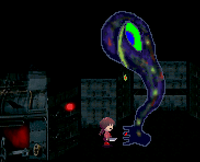 Interpretation
Edit
Some theorize he is crying due to being the last of his kind and misses his family, or because he is mourning the dead of the train crash.
Some fans consider the creature that is sometimes seen in the pond on The Witch's Island to be the son of Mars-san due to its likeness to him. video of the creature
Mars-san is a significant character and a large source of speculation. He is included in most theories about the game.
He is said to resemble the lamp on the desk in Madotsuki's Room