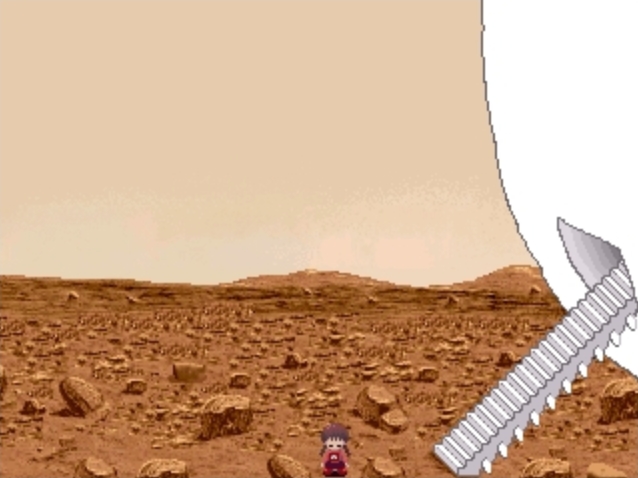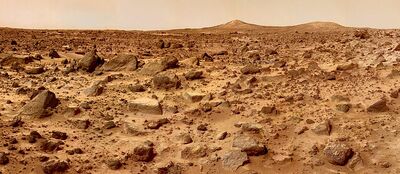 Ares Vallis was the landing site of NASA's Mars Pathfinder spacecraft, which studied a region of the valley near the border with Chryse in 1997.
マーズパスファインダーによって撮影されたアレスの谷付近
The colonization of Mars by humans is the focus of serious study because surface conditions, such as the availability of frozen ground water, make it the most hospitable planet in the solar system other than Earth. http://en.wikipedia.org/wiki/Colonization_of_Mars (Space Colonization)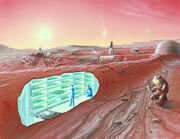 詳細は「火星の植民」を参照
The
flag of Mars
is a
tricolour
used by the
Mars Society
and
The Planetary Society
to represent the planet
Mars
.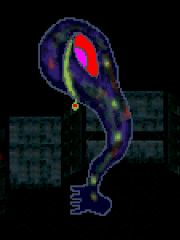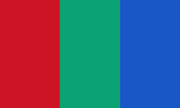 1.1 Red Mars — Colonization
1.3 Blue Mars — Long-term results
(January 1, 1993 - June 1, 1996)
http://en.wikipedia.org/wiki/Mars_trilogy
2 フィクションの火星人
イギリスのSF作家、H・G・ウェルズが1897年に小説『宇宙戦争』を発表し、
そこに登場したタコのような火星人のイメージが世間に定着した。
The image of a Martian like an octopus who appeared there was fixed to the world.
異常に発達した頭脳に対して四肢は退化しており、
The limbs have degenerated to unusually developed brains,
消化器官も退化していて動物の血液を直接摂取して栄養を得る。
The digestive organs have also degenerated, the blood of an animal is taken in directly, and nutrition is obtained.
これらの特徴は、一応は火星の環境を考慮している。すなわち、重力が地球より小さいから体を支える構造が軟弱で、空気が薄いから空気を吸い込む部分が大きい。

また、フレデリック・ブラウンの『火星人ゴーホーム』(1955) には、
異星人のもうひとつのステロタイプである「緑の小人」型火星人が登場する。

"The green child" model Martian who is another stereotype of an extraterrestrial appears.
Little green men
is the
stereotypical
portrayal of
extraterrestrials
as little
humanoid
-like creatures with green skin and sometimes with antennae on their heads.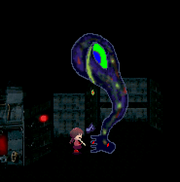 悪魔払いが行われたが、ニコールの症状はひどくなるばかりで、口が動いていないのに男の声がして見物人たちの罪の秘密をつぎつぎと暴露した。そのため懺悔の行列ができた。ルボー司教が悪魔払いに聖餅を使うと、ニコールは動かなくなり、ベルゼブブはニコールの左腕に逃げ込み、左手は硬く閉じられた。
人々はニコールの足に針を刺したが、ニコールは何も感じなかった
Although people stabbed Nicole's leg with the needle, Nicole felt nothing.
(後の魔女裁判の審判法:針の痛みを感じない→魔女)。
(The method of judging a next witch trial: -> witch who does not feel the pain of a needle).
Night on the Galactic Railroad
(銀河鉄道の夜

,

Ginga Tetsudō no Yoru?)
, sometimes translated as
Milky Way Railroad
,
Night Train to the Stars
, or
Fantasy Railroad In The Stars
,
[2]
is a classic
Japanese
novel
by
Kenji Miyazawa
written around 1927. The nine-chapter novel was posthumously published in 1934 as part of
Complete Works of Kenji Miyazawa
Vol. 3
(『宮沢賢治全集』第三巻?)
published by
Bunpodō
(文圃堂?)
.
[3]
Four versions are known to be in existence, with the last one being the most famous among Japanese readers.
[4]

Spring and Chaos (イーハトーブ幻想 Kenjiの春, Īhatōbu Gensō Kenji no Haru?, lit, Ihatov Fantasy: Kenji's Spring) is a 1996 Japanese anime television special inspired by the life of poet Kenji Miyazawa, released in Japan to mark the 100th anniversary of Miyazawa's birth. It was directed by Shoji Kawamori. It was released in North America by Tokyopop.
http://en.wikipedia.org/wiki/Spring_and_Chaos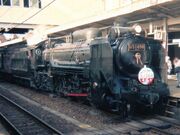 The
Class D51
(D51形?)
is a type of
2-8-2
steam locomotive
built by the
Japanese Government Railways
, the
Japanese National Railways
and various manufacturers from 1936 to 1951. The name consists of a "D" for the four sets of driving wheels and the class number 51 for
tender locomotives
that the numbers 50 through 99 were assigned to under the
1928 locomotive classification rule
.
http://en.wikipedia.org/wiki/JNR_Class_D51
1989年 - 2001年、2004年、2012年:釜石線(花巻駅 - 釜石駅)「SL銀河ドリーム号」
1989 - 2001, 2004, 2012: Kamaishi Line (Hanamaki Station -  Kamaishi Station) "SL Galaxy dream number"
1989年は同機の初の出張運転を飾る。この時のみ花巻 - 遠野間での運転で、上りの遠野駅 - 花巻駅はバック運転実施。
2012年の運転は、同時運行の「SLイーハトーブいわて物語号」と共に北上駅 - 釜石駅間を2日1往復で運転された。また、週変わりでナンバープレートの塗色変更も行われた。(6月2, 3日は赤色、同9, 10日は青色、16, 17日は黒色を掲出)
■ End continuous running with 2001.1989 - 2 figures will go into operation and OO under A.D. of the year by the train name of "romantic Galaxy railroad SL'OO" in 1992.(Example: Romantic Galaxy railroad SL'89)
■ The first business trip operation of the opportunity will be decorated in 1989.Only at this time, uphill Tono Station -  Hanamaki Station is back operation implementation by operation between bun - Tono.
■ Operation in 2012 was operated by one round trip in between Kitakami Station -  Kamaishi Station with "SL イーハトーブ いわて tale number" of simultaneous operation on the 2nd.Moreover, a change of a license plate was also made by the week change.(six a month  two three a day Red said as for 9 and ten days, Blue, 16, and 17 days are posting about Black)
Ad blocker interference detected!
Wikia is a free-to-use site that makes money from advertising. We have a modified experience for viewers using ad blockers

Wikia is not accessible if you've made further modifications. Remove the custom ad blocker rule(s) and the page will load as expected.