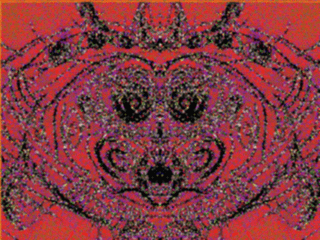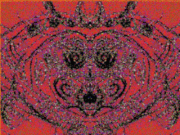 Louis Wain (5 August 1860 – 4 July 1939) was an English artist best known for his drawings, which consistently featured anthropomorphised large-eyed cats and kittens.
In his later years he may have suffered from schizophrenia (although this claim is disputed), which, according to some psychologists[citation needed], can be seen in his works. 
The British artist Louis Wain was a highly successful illustrator whose reputation was made on his singular and gently humorous pictures of cats. A cat-lover himself and sometime President of The National Cat Club, Wain claimed in an interview in 1896 that his "fanciful cat creations" were first suggested to him by Peter, his black & white cat. Demand for Wain's work diminished in the decade after the outbreak of the First World War, leaving him progressively impoverished. He began to show signs of mental disorder, including becoming aggressive, abusive and sometimes violent.
In 1924 he was certified insane and placed in the paupers ward of Springfield Hospital at Tooting. Despite his delusional state, Wain continued to draw and paint, which led a year later to him being recognised by one of the hospital guardians and transferred to a private room at the Royal Bethlem Hospital in Southwark, with money raised through public appeal. http://www.outsiderart.co.uk/wain.htm
---
Action: (1) Madotsuki faces the camera and meows like a cat, with large red eyes. She paws the air with her right hand and holds a koban coin in her left, resembling the Maneki Neko.

※FACE looks like the "Louis Wain's Cat" and "Madotsuki(Cat)" is "FACE of a family or parents?
Ad blocker interference detected!
Wikia is a free-to-use site that makes money from advertising. We have a modified experience for viewers using ad blockers

Wikia is not accessible if you've made further modifications. Remove the custom ad blocker rule(s) and the page will load as expected.